SCISSOR SHARPENING - SCISSOR SHARPENER
Scissor sharpener John Klemm has been scissor sharpening for over 38 years and has a reputation of being one of the most qualified and precision scissor sharpeners in the industry. His experience gives you the assurance of manufacturers finish and lasting durability when your hair scissors are sharpened by Mr Scissors Hair Supplies. Aaron Klemm is also trained by the Japanese Samurai - scissor sharpening method which is accredited to be one of the best.
Select your scissor sharpening needs from the service list below, and contact us by email or phone:- (mrscissors8@bigpond.com ) Phone John: 0413 748 288 Aaron: 0409 571 007

Postal Address: Mr Scissors @ P.O. Box 260, Yungaburra, Qld, 4884.

SCISSOR SHARPENING

- SERVICE:-
FULL FACTORY QUALITY SCISSOR SERVICING.
All scissors are precisely sharpened & polished according to the original manufacturers specifications. Includes new washers in scissors when needed. OVER 38 years experience which assures you of the best sharpening and long life of your hair scissor. Many scissor sharpeners put an incorrect edge on scissors and end up taking to much steel off which takes the life off your scissors and will cost you much more as we cannot put the steel back when its taken off. This causes the need for an early new scissor to be purchased than should be. Also the scissor will not perform like before. Save money and life on your scissors by sending them to us to take care of.

Our code Each
TYPE OF SCISSOR BEVEL-EDGE OR SERRATED B59 $68.00 each
(Bevel edge designed more for basic cutting and scissor over comb only.)
TYPE OF SCISSOR CLAM-SHELL EDGE BLADE
& ALL THINNING SCISSORS C59 $68.00 each to $77.00 each

(Clamshell edge is designed for slicing, point cutting, scissor over comb and all
professional Hairdressing and Barbering Techniques)
PATENT SLIT SCISSORS RESHARPENED FROM $88.00

REMANUFACTURING OF SCISSOR
(incorrect sharpening & re- correction takes much longer ) R77 $77.00 to $88.00 each

LEFT HAND SCISSORS & THINNERS L77 $77.00 each
Replace rubber stoppers & screw in stoppers F77 $7.70 each

New full screw assemblies from $9.80 A88 $9.80 each
Spare finger inserts $2.00 each.

NO CHARGE FOR USE OF MR SCISSORS HAIR SUPPLIES QUALITY SCISSORS DURING SERVICE.
(Spare scissors available in different sizes and close match to your own scissor @ no charge) Available in pick up areas no charge.) If loan scissor to be posted extra postal charges will be charged for.
Phone us on 0413 748 288 or 07 4095 3388

Parts :- We carry spare parts for all of our hair scissors we sell and many parts for other brand hair scissors.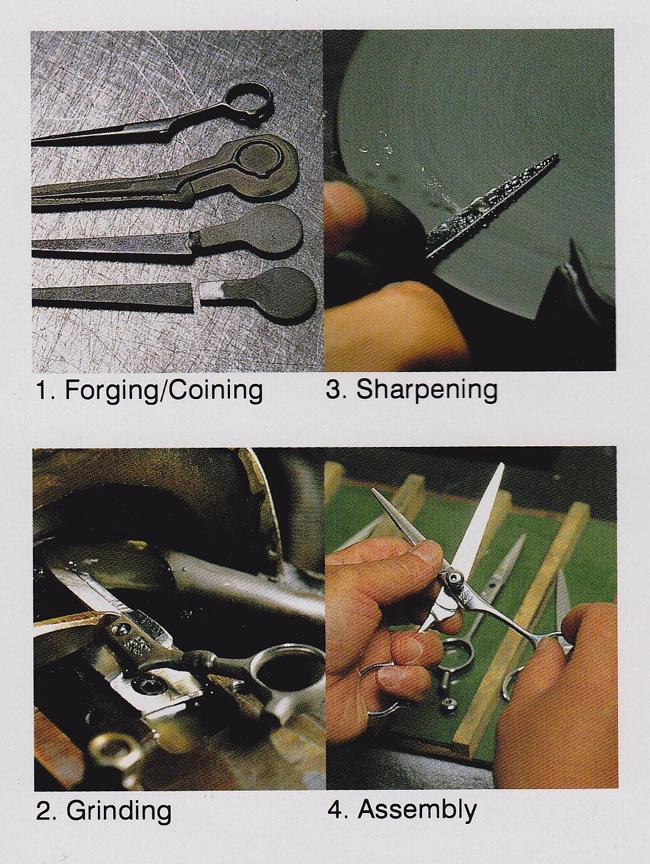 THERE ARE SEVEN STAGES IN OUR SCISSOR SHARPENING AND POLISHING TECHNIQUE.
YOUR SCISSOR SHARPENING IS HAND FINISHED BY THE MOST EXPERIENCED SCISSOR SHARPENERS. THE SCISSOR SHARPENER WILL ALSO TAKE CARE TO CHECK THE SCISSOR FOR PRECISION CUTTING ON SPECIAL SCISSOR CLOTH & OR CLEAN HAIR BEFORE THEY ARE SENT BACK.